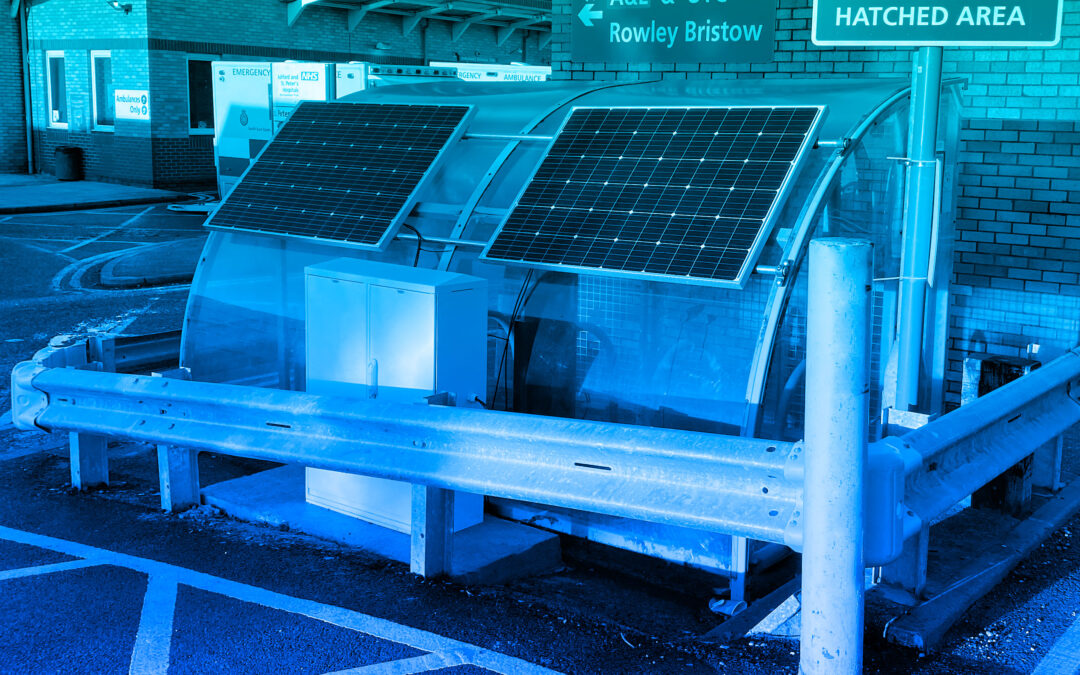 NHS CASE STUDY:

Transforming daily commutes of NHS staff in Surrey

With too many cars and too few car parking places, employees and patients at Ashford and St. Peter's Hospitals have a challenge finding car parking spots.
Drivers scour the car park for parking spaces, causing traffic build-up and frustration. The resulting congestion affects staff, visitors and the local community.
Quick to install and with no need for a mains connection, these solar powered charge points can be up and running in just one day.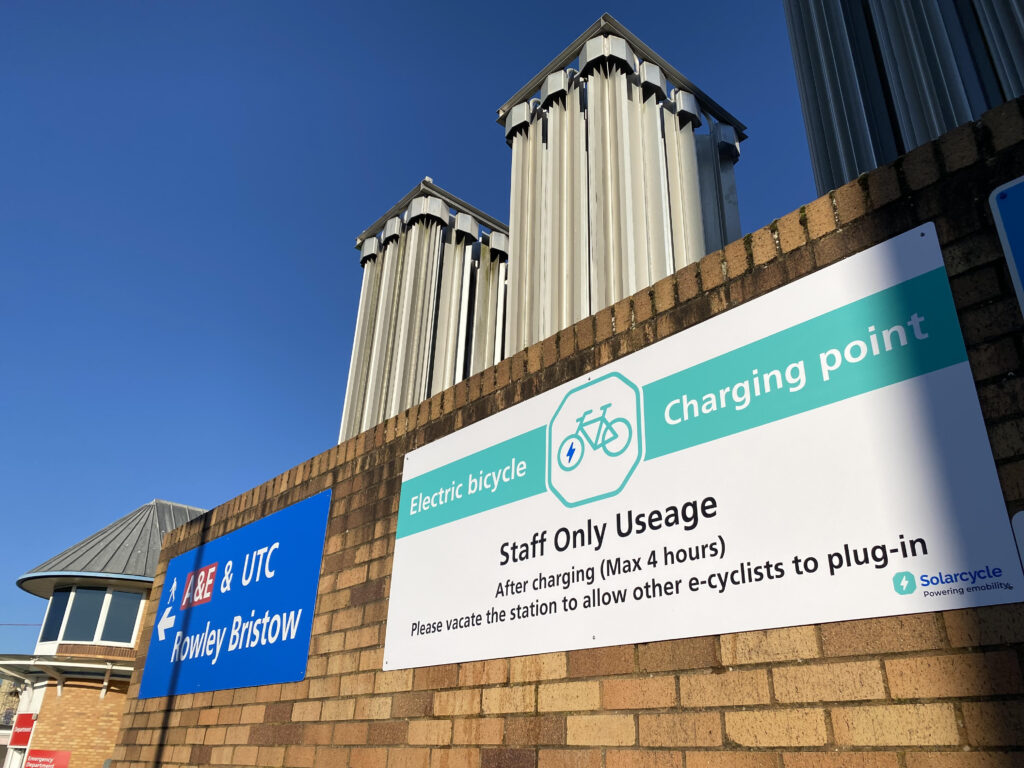 Support for car-free commuting
Keen to reduce this problem, the Ashford and St Peter's Hospital (ASPH) trust encourage car-free commuting with  cycling as a very popular option. Cycle-to-work finance schemes further incentivise ownership of bikes and e-bikes too. Staff now have the opportunity of an easier and cheaper car-free commute than ever before.

Avoiding high costs and disruption
Recognising the benefits of Ebikes, the facilities team at the trust started investigating the potential for Ebike charging points. These would be similar to electric vehicle charging points. However, this was more challenging than they hoped. Installing electric bike charging points is incredibly costly, with an outlay of £20k to just to route electric cables to the charging point, plus the cost of equipment and ongoing electricity supply. The installation would also be very disruptive. Routing electricity means digging up parts of the carpark and on-site road network, causing even more disruption to carpark users.
Solarcycle's logical alternative
However, there was another solution – one with a fraction of the disruption and vastly lower costs. SolarCycle provides off-grid solar charging for electric bikes. Quick to install and with no need for a mains connection, these solar powered charge points can be up and running in just one day. And because they have no need for a mains connection, the installation and running costs are far lower than mains-connected charge points.
Quickly seeing the potential for SolarCycle's Ebike charging points, the ASPH trust were keen to find out more. We explained that in addition to the minimal disruption and quick installation, they could provide this service to their staff free of charge – after all, the sun's energy is readily available. This would be in addition to savings on fuel and parking charges, making the option an increasingly attractive staff benefit. This initiative would also support the Trust's green targets by providing low carbon transport options.
A UK first for Ashford and St Peter's Hospitals
The Ebike charging points were installed to the enormous satisfaction of the trust, with Ebike users already taking advantage of the new facilities.
Tom Smerdon, Director of Strategy and Sustainability at ASPH said, "It's very exciting to see the Ebike charging points being installed here at the Trust, helping us reduce our carbon impact, improve our wellbeing and support local enterprise and innovation."