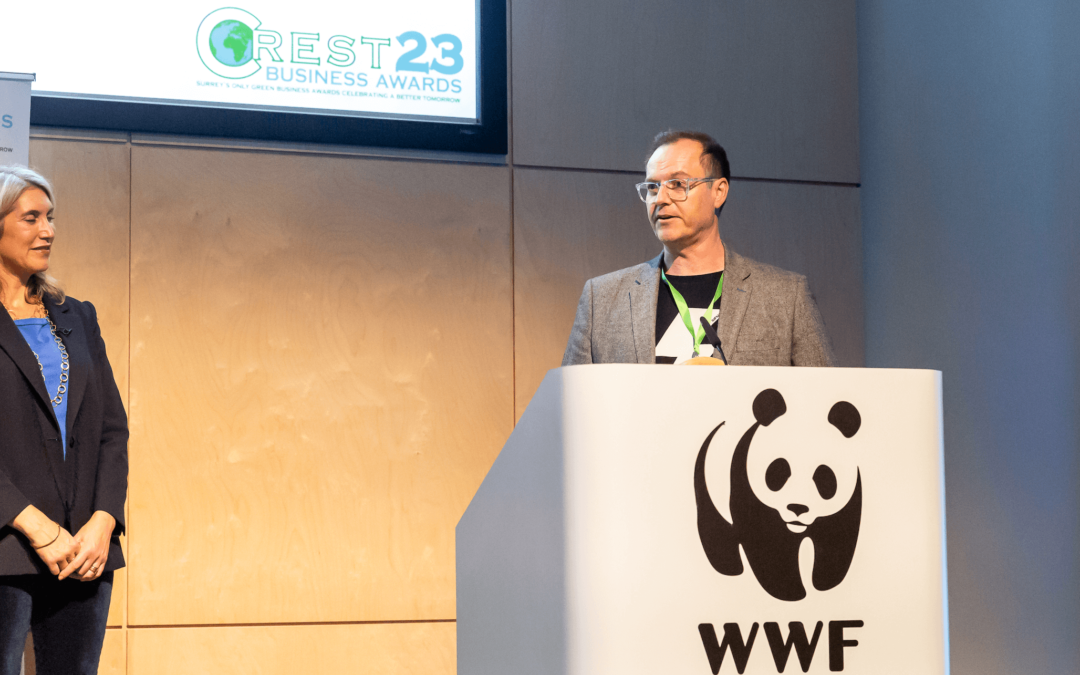 Solarcycle Scoops Award for

Smarter Transport at Crest Business Awards
Solarcycle.UK was recently honoured with the prestigious Smarter Transport award at the Crest Business Awards held at WWF-UK's Living Planet Building in Woking on October 26th, 2023. 
The award ceremony, a part of the Crest Business Awards Convention, celebrated sustainable solutions in various categories. Solarcycle.UK's victory in the Smarter Transport category highlighted the company's dedication to promoting sustainability through its innovative solar-powered e-bike chargers.
The event, presented by Sustainability Leaders, Joanna Yarrow and Professor Lorenzo Fioramonti provided Solarcycle.UK a chance to showcase its cutting-edge solar e-bike charging technology – emphasising its contribution to helping organisations achieve their transport, environment, and employee well-being goals at an affordable monthly cost.
On the company's stand visitors were able to explore and discuss the e-bike charging solutions, and experience first-hand, the latest in off-grid e-bike metering software. This innovation in CO2 reporting calculates the reductions in employee's carbon emissions, required in scope 3 reporting which is another 1st for Solarcycle in the UK.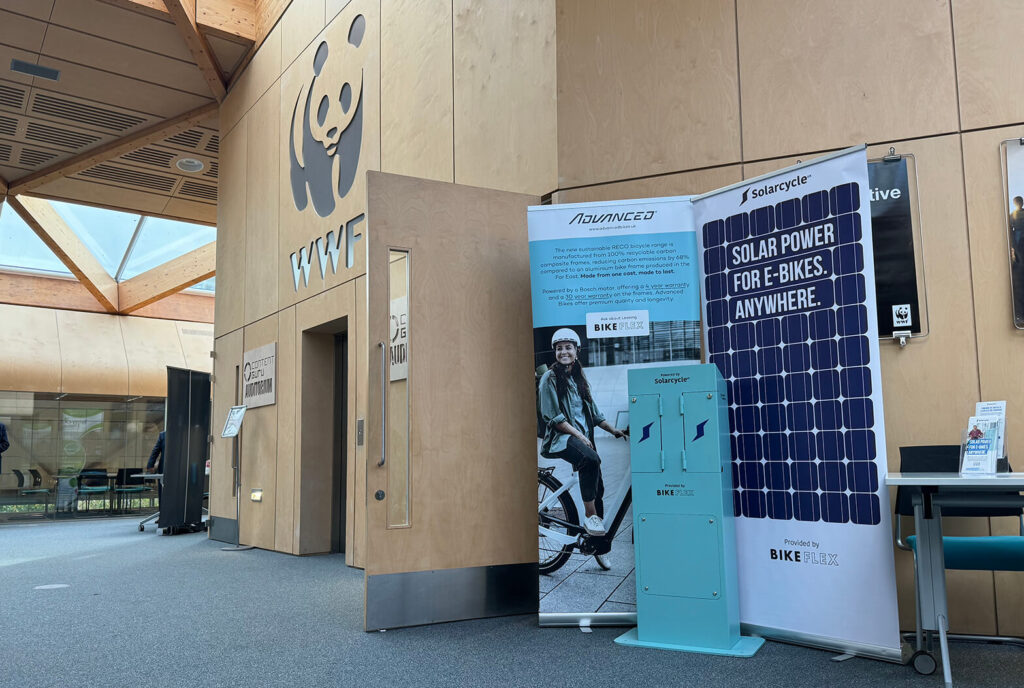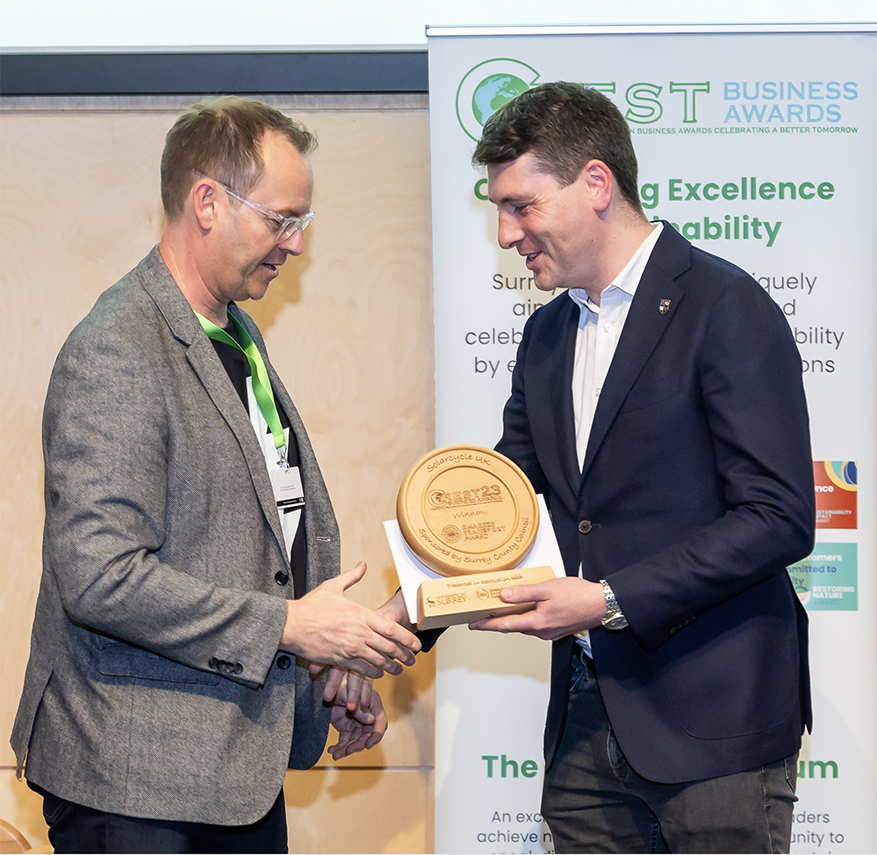 Presenting the award, Matt Furniss, Cabinet member for Highways 
Recognising the potential of e-bikes as a transformative solution amid rising costs, traffic congestion, and concerns about employee well-being, Solarcycle.UK pioneered the development of the UK's first off-grid, solar-powered e-bike chargers. These chargers can be installed anywhere, irrespective of access to mains electricity.
Andy Hyatt, Facilities Manager at St Peter's Hospital, who also joined the evening, praised Solarcycle's cost-effective and environmentally sustainable approach, citing a significant saving in installation expenses and hassle compared to mains-powered e-bike alternatives.
The Crest Business Awards event highlighted a prominent theme: businesses prioritising environmental and social well-being over profits are better positioned to thrive sustainably in the long run, especially in the face of current global uncertainties. Solarcycle founder Paul Stratford expressed his pride in receiving the Crest Business Awards prize. "This recognition really underscores my company's ongoing commitment to revolutionise travel for the benefit of employees, organisations, and the planet".
 Paul Stratford praised customers, like Andy Hyatt (left), who recognise the shift towards e-bike adoption. "Andy and the hospital are promoting a future less dependent on cars for short journeys, bringing benefits to travel, environment and people's wellbeing".
Carol Miller, from Crest Business Awards said "Solarcycle embodies so much of what a sustainable business is about and really impressed our judges who selected the Solarcycle entry as the Smarter Transport Award 2023 winner. We are sure that Solarcycle is destined to be a green business thought leader." 
Winners not only received the coveted plaque but also gained vouchers for CES and the Institute for Sustainability, enabling them to further innovate and develop their organisations. Paul Stratford went on to say "Solarcycle.UK, with its roadmap of features, is well poised to become a global leader, focusing on user experience, organisational growth, and environmental preservation. Working with The Institute for Sustainability is a remarkable opportunity, which we'll take advantage of immediately".
Missed the event?
Would you like to discuss employee CO2 savings in your organisation?
Solarcycle.UK invites organisations of all sizes to get in touch. Using our proprietary tools, we can help organisations calculate the significant savings that solar e-bike chargers would bring, impacting their scope 3 emissions reporting positively.